1.
To access the User CP (User Control Panel), hover over your name in the top navigation bar. Then, click User CP.

2.
The following webpage will appear. Here, you can access everything from editing your profile, to attaching accounts.

1.
To attach a relationship to your character's account, first go to their
User CP.
Then, locate the far-right box labeled
Sundry
.

2.
Click the button labeled
Relationships
.
3.
A new page will open. At the bottom of the page, you can request new relationships, view your current ones, or accept/decline new requests.
To access your Threadlog and view your character's owed post, go to their profile. In the top right of the profile, click the button labeled View Threadlog.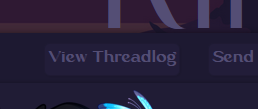 Before attempting to close any threads, please be sure you are logged in to your
OOC Account
. Character accounts cannot close threads.
1.
To close a concluded thread, first go to the thread you want to close.
2.
Scroll down to the
bottom
of the page.
3.
Locate the dropdown box labeled
Moderation Options
. Click on it.
4.
In the dropdown box that appears, click
Close Thread
.

Please Note:
In closing a thread, the author will be PMed with a notification that their thread name has been closed. It will also notify them of the user that closed the thread. Additionally, a comment will be posted from your OOC account, noting that you closed the thread.